Ramstein Campaign: No drone wars!
Never again war from German soil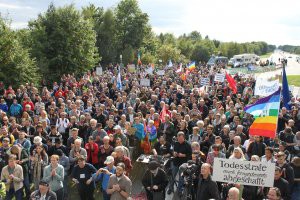 On September 26 more than 1500 people protested in front of the US Airbase Ramstein. Please find pictures here and an article of Stars+Stripes here. More than 6000 persons signed the following appeal:
Appeal
The US Air Force base at Ramstein, Germany, is a central pivot for preparing and executing wars of aggression violating international law. Most of the lethal missions of US combat drones, e.g. in Iraq, Afghanistan, Pakistan, Yemen, Syria, and Africa, are conducted via Ramstein's satellite relay station.
US drone pilotes from a multitude of military bases use Ramstein for operating killer drones in illegal war missions around the world. In Ramstein itself, about 650 personnel continuously analyze, update and pass on data from the surveillance of alleged targets.
With drones, the US government has extrajudicially killed almost 5,000 people in Pakistan, Yemen, and Somalia as well as more than 13,000 in the war in Afghanistan. US drones have killed countless victims in Iraq, Syria, and Libya. The large majority of the victims were innocents such as women, children, and old people. The orders to murder are transmitted from joysticks via Ramstein's satellite relay station to the specific drones. Without Ramstein, the whole drone war would be obstructed decisively sine die.
At the same time, Ramstein was indispensable for logistically executing the brutal US/NATO war in Afghanistan and the US war of aggression in Iraq. The same is true for looming US interventionist wars, including at the borders of Russia.
The components of the US missile defense shield are stationed in different NATO states. One of its commando centers is incorporated into Ramstein's AIRCOM, headquarters of all NATO air forces.
Extrajudicial executions of citizens of foreign countries on their own soil do not only violate the UN's human rights charter and international law, but they also violate the German constitution if the crime emanates from German territory. We will not accept this any longer: neither the illegal goings-on of the US in Germany, nor their crimes against international law emanating from German territory, nor their support by the German government.
We thus demand of the German parliament and government:
to ban the US from using Ramstein as the basis of their drone wars by law;
to close down Ramstein's satellite relay station;
to renounce the purchase of combat drones for the Bundeswehr;
to proscribe the acquisition of combat drones for military;
to end the illegal spying of NSA, in cooperation with the German intelligence agency BND, for which Ramstein is a focal point.
Only individual commitment and determined action can put an end to the German government's highly dangerous military politics and the US/NATO acts of war.
Hence we call for a demonstration and rally in front of Ramstein Air Base on September 26th, 2015, for a large public event in Kaiserslautern on September 25th, and for an evaluation and future-planning meeting on September 26th evening – as part of a long-term and extensive campaign.